Show respect. Newark is about as hard as a city in NJ can get, and like any old city, yeah some wild shit can go down. Newark is a city on the rebound so you've got a lot of money in the downtown area, which is around the condos, colleges and financial/corporate buildings, and then as you go away from downtown you start to see what Newark is really about. You also see less and less cops. There's plenty of riding spots all over the place regardless, (most of the architecture and zoning is old) so if you are the type that thinks School 11 in Clifton is "grease", you might want to hang around the downtown part of Newark and not go to the outskirts... But if you're like me, you'll be riding up every alley looking for shit, so Man Up!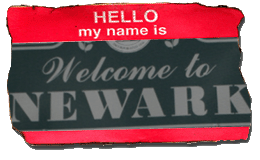 July marked the 40th anniversary of the '67 Newark riots, which were sparked by a Police brutality incident and blew up into one of the worst riots in US history. After the riots, a lot of people with money and businesses fled the city and Newark was scarred by it. Afterwards, there were a lot less jobs and a lot more crime. Through the 70's, 80's and especially 90's, when I lived down around there and was bombing graffiti, Newark was a place I had multiple beefs. That was also before the gangs came; but today it doesn't seem quite as shady as it used to be. I had been getting some pics and footy on a few days there over June and July, first from downtown (PSE&G, Hilton, Colleges) and over in the Portuguese section (east of Penn Station), and then down Broad street, the Ironbound section and down near Frelinghuysen Ave and Weequahic Park, not far from the airport. As usual, you are just stumbling on spots. There's no point in listing spots, the whole city is a spot. Peep the videos because I was filming more with my toy camera than shooting pics.
I am going on another recon soon since I saw some more potential spots while driving through, you always kinda do. Riding ain't the only good thing about Newark though, you need to eat at one of the Portuguese steakhouses (OMG), grab a mix CD on Market St., maybe a pair of Dunks or AirForce1's (you can haggle sometimes) downtown. In other words, spend some money. Oh, and if you happen to be into tranny hookers, Frelinghuysen Ave has you covered, you sick fuck.